– WHAT'S HCXHC?
HCXHC (Hardcore Hits Cancer) is a legally-established, non-profit association which aims to aid cancer patients from a mental and financial point of view and to raise money for different foundations that work with them, and especially those that assist children. All the work we do is also related to Hardcore, Punk rock and Metal music, which helps spread the message that there is room for solidarity in this type of music.
–Are you an NGO?
No, we are not. This is a nonprofit association run by a group of friends, and we don't receive any public or private funding. We don't have headquarters or offices anywhere, either. The people who work in this association have their own jobs somewhere else and collaborate with the association during their free time whenever they can, whether it is by setting up stands in concerts and events or organising concerts, taking care of graphic design, website posts, merchandising and purchase orders, etc. We carry out these activities during our free time and, more importantly, without aiming to make any profit from them in any way
– HOW DID IT START?
HCXHC was born just as an idea a few years ago, when founder Daniel Sadurni fought his own personal battle against cancer. During this process, music was one of the main elements that helped him get through the worst moments. After that, he decided to start an association to contribute to the fight against cancer, with the help of friends and collaborators and with hardcore and punk rock music as the main theme.
– HOW DO YOU DO IT? WHERE DO YOU GET THE FINANCIAL SUPPORT?
We have our own merchandise for the association, which we sell at concerts, festivals, sports events, etc. Sometimes it is us who organise those events and some other times we are invited to participate in them.
We also publish cover compilation albums with classic hardcore and punk rock covers interpreted by the bands that collaborate with us.
– WHERE DOES ALL THE MONEY RAISED GO?
So far, 100% of the money we have raised has been donated to Alfanoc's project, La Casa dels Xuklis.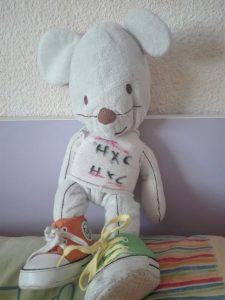 – WHAT IS LA CASA DELS XUKLIS?
La Casa dels Xuklis is a shelter that was set up to improve the quality of life of disadvantaged children suffering from cancer and their families, who come to Barcelona to receive treatment at the referral hospitals there. The families stay there with the kids and can focus on supporting and caring for them, without the extra burden of having to find and pay for accommodation for as long as the treatment lasts.
– WHY IS IT CALLED LA CASA DELS XUKLIS?
Xuklis are little creatures that hide under hospital beds and behind doors. They are similar to gnomes and can only be seen by sick children. They have the power to absorb all the bad feelings that cancer brings to the families affected. Xuklis were designed by Roser Capdevila and the architect Dani Freixes. When the idea for this shelter came up, they decided to create these creatures, whose heads are shaped as surgical gloves. And, of course, the project is named after them.
– WOULD YOU LIKE TO COLLABORATE WITH HCXHC AND MAKE A DONATION WITHOUT BUYING ANY MERCHANDISE?
https://afanocbotiga.org/es/microdonaciones/
– DO YOU BELONG TO A BAND, A CULTURAL OR SPORTS ASSOCIATION AND WOULD LIKE TO COLLABORATE? WOULD YOU LIKE TO DO IT INDIVIDUALLY?
You can get in contact with us via email: hcxhc2@gmail.com. We will listen to your proposals, we will take them into consideration and we will get back to you as soon as we can.
Translation, Iker Martín